Determine for yourself. See the facts below:
Relative to Meadows Fire on Evening of May 19, 2018
Watch Utah Channel 4 ABC News with Marcos Ortiz for News coverage of this case.
Next court date is Nov 13, 2019 Time: 9 a.m.
Second District Court,
800 W State St, Farmington, UT 84025 (801) 447-3800 option 2 criminal court
If you have any evidence concerning this case you may contact (801) 451-4300 Brandon Poll: Case Prosecutor, Troy Rawlings: Davis County District Chief Prosecutor
As of this last hearing, Ron was charged with by the prosecuting attorney for obstruction of Justice for not being able to tell them the address of the man who gave him the gas can. The Judge was trying to pressure Ron to accept a plea bargain. They are desperately floundering for a way to indite Ron simply to cover up their incompetence and liability for arresting an innocent man.
Vicious Villain, or Falsely Accused and Helpful Hero? Ron is innocent. Nearly all Ron's constitutional and civil rights were violated by law enforcement agents. There has been no mandated discovery and no speedy trial. The prosecutor has failed to deliver all discoveries or proof of guilt. He was treated like a domestic terrorist.

Forensic report from Davis County fire "The partial forensic report is insufficient to make any determination with regard to the quantity/proportions of the alleged accelerant(s)". in English there was no gasoline indicated this fire.
Press Release
RONALD MAKIN VS. BOUNTIFUL CITY Bountiful, Utah (Falsely accused of 52 Counts of Aggravated Arson & Attempted Homicide)
RE: Court Case #181701041

Press Release Facts May 19th, 2018
1. The fire started around 11:45 p.m. Ronald was not in the building at the time the fire began. The Bountiful City police detained and interrogated him all night. A gas container was found in the back of his truck in the parking lot of the apartment complex. Earlier that night, Ron unwittingly spilled gasoline on his pants and shoes at a parking lot near a public well where he went to obtain drinking water. The well is next to a church parking lot (200 east and 200 south, Centerville, UT) where the gasoline spill created marks in the asphalt.
2. While Ron was being interrogated on site, the night of the fire, without a lawyer present, the police forced him to remain outside without a coat or any protection from the cold weather. They also denied him an opportunity to get his medication to take to the jail.
3. After being arrested Ron was held incommunicado without defense and due process until the day of his arraignment 13 days later. Ron's (friend retained), private attorney, wife, friends, and church leaders were not allowed to see him. The phone system did not allow them appropriate communication either. The court did not offer him an attorney until minutes before his court hearing. The private attorney retained by Thomas Rodgers, first tried to contact Ron at the jail 4 days after the arrest but was not allowed personal contact until Ron was being brought into court 13 days later.
4. On the 3rd day at the Davis County jail, the fire department investigator and the detective from the Bountiful Police Department attempted to intimidate Ron and tried to force him to sign a confession against his will, mind and knowledge.
5. Ron is on disability and his wife is visually and physically impaired. At the time of the incident, Ron provided for her care. They were planning to be sealed (eternally married) on the following December in the Manti Temple of The Church of Jesus Christ of Latterday Saints. He was Sunday School President of the "Meadow's Branch."
6. In his past, Ron was an honorable Certified Licensed Public Proffessional Safety Officer until his declining health and disability interferred. His first concern that night of the fire was the safety and well being of his fellow occupants at the Meadows apartments, many of whom are amputies, crippled, blind, hearing impaired, deaf and otherwise handicapped, including his own wife.
Thomas L Rodgers (Witness) An expert on Combustion Dynamics (Trained and was employed by the Rand Corporation) Phone: 385-424-3855
Please watch: www.intheair.news
www.gassingamerica.com or gassingutah.com To see recent Media go to www.meadowsfire.com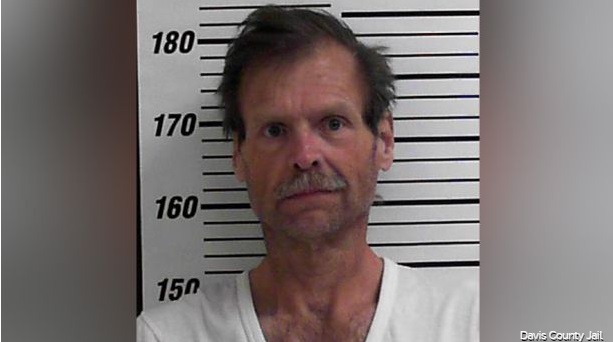 Does the following evidence suggest deliberate arson or simply someone's clumsy accidental ignition garbage spill? Curiously, the spill seems to have begun in front of the door of the tenant who stepped over the fire to exit her apartment. This trivial fire was like a line of birthday candles caused by a flammable fluid, drizzled, dripped and straifed through the hall and down the stairs to the outside walkway passing around a ground based power transformer (7.2 KV (thousands of volts) which poses a high risk for any flamable fluids or vapors which happen to come near it due to risk of ignition from inductive, capasitive, static discharge common and natural to high voltage transformers) and a propane powered supplemental power generator (opposite to the transformer) then around the transformer to the dumpster. Beyond the drip's wetted area, carpets didn't burn, and paint did not burn but only collected soot (condensate) because the walls were cool or cold.
Only one occupant simply had to only step over the flames. Two others exiting their apartment simply walked beside the small non-threatening flame to exit the 57 ft long and 5 ft wide hallway unthreatened, unaffected, and unharmed.
Flammable liquid, low molecular weight (simple) low kinetic energy, high vapor pressure however high fusion (oxidation temp) it burns with a nonluminescent flame (invisible to eye) until other contaminants are incinerated i.e. made or forced to burn. The lint, carpet and other materials are forced to burn then the flame becomes visible but not sustainable in this case.
Carpets are made of Polyethylene (ie petroleum), but with a flame retardant added to the carpeting material, that will not allow it to continue to burn for any extended length of time of itself.
Bountiful City claimed (insinuated) that this fire was a premeditated arson fire. and that the accelerant was from the container depicted below. What does it look like to you? Why was Ron fingered as the villain (suspect?)
History and Disposition of Gasoline and Container Located in Rear of Ron's Truck.
(and alleged to be the accelerant used according to the Bountiful City Fire Dept. even though forensic chemistry indicates no gasoline was used as the accelerant in the said fire)
3 days prior to the fire, Ron was asked by his past (ex)family associate to carry this unapproved for gasoline water jug. Ron unwittingly accepted this jug from this previous acquaintance, unaware that the acquaintance was asking him to carry an unapproved for gas container. (The acquaintance operates a lawn service and wanted to carry more than his DOT approved containers could hold.) After he placed the container in the back of Ron's truck, he assured Ron that he would come over to Ron's apartment at the Meadows and retrieve this unapproved container which he planned to use in his lawn care service. Ron drove around 3 days not realizing that the cap was insecure as provided.
A few hours (approximately 9:45 – 10:00 p.m.) prior to the fire Ron went for coffee(mocha) and then went for well water at the Centerville 1st ward church. He reached forward to lift the 2 gallon water container filled with gas (left with him by the ex- family associate,) out of the way to access his regular water bottles stored in his cooler. Under the exertion of reaching, Ron's pacemaker was shocking him and giving him terrible stress. Because of the pain and destabilizing effect caused from the pacemaker, his actions were not stable and because of the unsealable, insecure cap, he spilled the the major part of the gasoline in the container on his pants, shoes and the parking lot asphalt.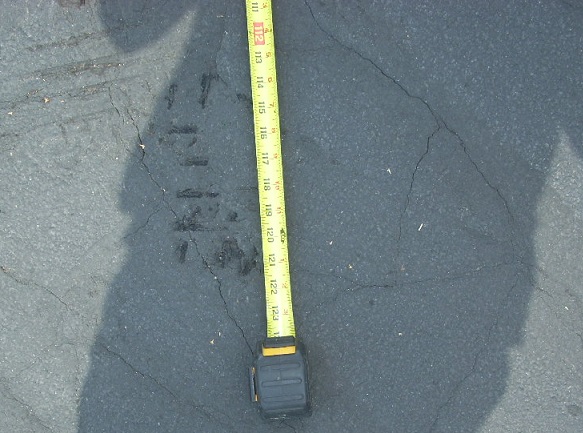 Location of gasoline spill: Centerville 1st Ward Church – 160 south 300 east. The well is on the southwest corner of the lot near 2nd south and 2nd east. The spill mark where asphalt is damaged by the gasoline spill is on the 2nd east side and the west center edge of the parking lot. Other cars were parked close to well, so Ron parked away from the well (150 south.) The asphalt damage is still recognizable.

Ron then walked around a few minutes with his dogs to allow the gas to dry, since he didn't have a change of clothes or boots until the gas had evaporated and then he returned with his coffee and dogs to the Meadows parking lot. This all happened about 10 pm about 2 hours before the fire. One hour later approximately 10:45 – 11p.m. Ron took the dogs for a walk having not changed his clothes and not realizing that he still smelled like gas, like a smoker cannot smell his own smoke. Walking around for about 2 miles, he returned to the building about 11:45 just as the fire alarm sounded.
The fire must've started before Ron entered the building because the alarm sounded only seconds after he entered the building. He immediately went to his apartment and advised his wife Susie to get dressed in order to leave the apartment. He then picked up his phone which he hadn't taken with him on his walk. Ron then stepped into the hall and called 911. They told him to locate the fire. He reported that it was small. After searching for and locating the fire, they told him to evacuate the building. Ron was already trained previously as a 1st responder for fire and rescue so his first concern was to help those who had injuries impeding their ability to leave the building. Ron's wife informed residents while Ron assisted amputees in putting their legs on, and carried a resident with back injuries out of the building. Ron then put out part of the small fire with fire distinguisher foam before having to leave because of the smoke. The rest of the fire burned itself out. The fire department arrived after the fire was out. There was no fire when the fire department arrived.
As Ron walked in the building 2 hours after the spill, smelling like gas, it made him the easy suspect. The police and apartment tenants noticed his smell. They conjured the idea that Ron was an arsonist.
All indications are that the fire was caused by an alcohol type spill, liquor or domestic cleaning liquid which was ignited with static, friction, sparks or ember from a smoldering, tossed cigarette. (note: many tenants often sneak a smoke in this area next to a dog defection area and picnic table.) (search google medical fires)
History, Disposition and Intent of Lighter The police report states that a cigarette lighter was in Ron's pocket. He was planning on using it for a barbecue at the Bountiful pond on the following day and again on Memorial Day to celebrate his wedding anniversary.
A gallon of gasoline has the kenetic energy of 70 to 90 million foot pounds or 123,000 btu. One gallon = 33 kilowatt hours. This is the equivalent of 33 space heaters in the hall and stairway running on high for an hour. How hot would that be? Do you think there would be any paint, plastic or carpet left unburned? If a gallon of gasoline had been spread and ignited with a cigarette lighter the ignition and explosion would have blown out all the windows and doors of that hallway. It would have seriously burned or killed the arsonist and the individuals in apartments attached to that hallway. However, the individuals living in that hallway walked out uninjured and unharmed. The fire would not have burned out before the fire department arrived had gasoline been used.

Person of interest #2 The only other individual adversely affected by the fire was an individual who didn't live in that hallway but was using that hallway as a pathway to dispose of his garbage as did many others. A rock was found by the door often used to prop the door open. As he returned into the building and into that hallway the flames must've become evident underneath his feet. He apparently tried to pat out this trivial or nonthreatening fire even using his hands. He obviously panicked when he realized he could not put out the fire that appeared to have ignited during his passage up the stairs and through the hallway. A common ignition of this type of fires is static discharge or friction like a rock in a cleat striking the cement or metalic threshold. Also a cigarette spark flicked by anyone near this type of spill could have also caused the ignition. This individual was triaged and transported to the hospital by ambulance for serious smoke inhalation and burn injuries to his hands. Where is the police and medical report of this person of interest #2 who was seriously impacted with smoke inhalation and heat irritation to his hands and body? This person who was staying with a friend at the meadows complex abruptly left and has never returned to the facility. Why not? Why have we not seen or heard of the interrogations or record of activity of this individual since he was the only one transported or examined to the hospital for injury that evening?

Person of interest #3 A heavy set man wearing grey shorts and a blue tee-shirt was noticed loitering near the area of the spill track outside, possibly sneaking a quick smoke as many others do in this area near the transformer and pet defecation site and close to the fire's stairway door
PLEASE DONATE! This case has already required over $14,000. Over $9,000 was paid by Tom. Send to Lifesave International, (Thomas Rodgers Trustee): Utah First Credit Union account # 764485 If your Credit Union is part of a Co-operative you may easily transfer from your Credit Union or any other Co-opertave Credit Credit Union to Utah First. Call Tom for routing #

Option: Wells Fargo account #1890008889 Non-profit charitable organization. Call Tom for routing #

Option: Send checks to Life Save International in care of (Tom Rodgers) at P. O. Box 304 Bountiful, UT 84011-0304

As of today Tom's banking priviledges have been suspended because of his $2000 overdraft to pay for legal fees for his dear friend Ron in standing for truth and fighting for justice. Tom's income is $847 a month social security. Ron's income is not much better. Thank you for your help!

_____________________________________________

Below are YouTube links to gasoline fires, to contrast to the Meadow's fire. Gasoline fires are powerful, vicious, uncontrollable, explosive, scorching, scary, tall and massive. In comparison, the police photos, personal photos and surveillance footage shown on this site and the above Channel 4 ABC News story (by Marcos Ortiz), as you can see, shows that the Meadow's fire had none of those attributes consistent with a gasoline fire! "Upstairs, in a hallway, one sees the flames. Tenants don't appear panicked as they leave the area." None of the tenants exiting that affected hallway were traumatized or the least bit harmed.


If you have any questions about the nature and dynamics of the fires displayed in these videos, please feel free to call Tom Rodgers at 801.298.9095 (cell phone: 385.424.3855).

Was the Meadows fire a vicious and explosive gasoline fire; OR was it a liquor flambe (sherry, rum, etc.) or skin-cleansing isopropyl/denatured (i.e., rubbing) antiseptic/astringent alcohol fire?


Alcohol Fires, to contrast to gasoline fires:

"Methanol – fire (1)" – https://www.youtube.com/watch?v=1ZEEuCHdWFA


"Alcohol Fire" – https://www.youtube.com/watch?v=6B6yqrtcA7M


"Pit Crew Engulfed By Invisible Fire!" – https://www.youtube.com/watch?v=Ku7TdLeEGsQ


Girl at Portland hospital is burned by alcohol ignited by small static shock – https://www.oregonlive.com/
health/2013/02/portland_hospital_fire_investi.html


Google other "hospital alcohol fire" articles.




News Stories of Gasoline Fires:
1. WWLP-22News – Drop-light falling in gasoline caused Southwick fire: https://www.youtube.com/watch?v=XN9DA_4UoTs
2. Eyewitness News ABC7NY – Man lights building lobby on fire with gasoline: https://www.youtube.com/watch?v=apQIG0f1Z9o
3. Click On Detroit | Local 4 | WDIV – Video shows man with jugs of gasoline lighting Inkster strip mall on fire: https://www.youtube.com/watch?v=Nk8p51VYdJ0
4. CBS Chicago – 1 Hurt In Explosion In Willowbrook, After Residents Reported Gasoline Smell: https://www.youtube.com/watch?v=IZyaR60bxvs


Mythbusters Mobile Phone Petrol Station Explosion: https://www.youtube.com/watch?v=VjrkwxMhc4s


DEMO & DESCRIPTION OF GASOLINE'S PROPERTIES: Starting a Fire Safely with Gasoline https://www.youtube.com/watch?v=2i9kYM6eQz4


[STRONG LANGUAGE provoked by shock, fear, surprise, and real personal injury!] massive bonfire explosion fail! https://www.youtube.com/watch?v=IbisRaEfsOY


[STRONG LANGUAGE!] Bonfire Gasoline Fire Fail explosion! Dumb yet funny! https://www.youtube.com/watch?v=4hdnY2izjzk


[STRONG LANGUAGE!] Do not use gasoline to ignite fire ( INCREDIBLE ) https://www.youtube.com/watch?v=UH4Hw9s8OAM


[STRONG LANGUAGE!] Lighting Weeds On Fire With Gasoline Bonfire https://www.youtube.com/watch?v=G7Evk4IQVyk


Dropping A Match On Gasoline (Slow Motion Test) https://www.youtube.com/watch?v=LJZKxWPOtSw


Dangerous fire bomb, gasoline and leaves: https://www.youtube.com/watch?v=67qOUko_eEc


Firework lighting a huge gasoline fire: https://www.youtube.com/watch?v=lmNlDjOvz90


Guys Light Up Bonfire Doused With Gasoline: https://www.youtube.com/watch?v=fLpQJY7OSD4


[NO SOUND] Using gasoline to light a fire: https://www.youtube.com/watch?v=3CmmH01jKmE


Lighting a Bonfire Using a Flaming Arrow from a Crossbow https://www.youtube.com/watch?v=WQrf6s6LhQQ


Guy uses way too much gasoline for backyard fire https://www.youtube.com/watch?v=8ANq67-A8Zo


Gasoline soaked timber https://www.youtube.com/watch?v=e1YmUpNaGmQ


Gasoline in Plastic Bottle Flares into a Tree https://www.youtube.com/watch?v=RrQv8G9x0wE


Fail: Explosion Of Gasoline Fumes And A Lucky Man https://www.youtube.com/watch?v=xMth9mPm4rE


Bonfire and gasoline idiot https://www.youtube.com/watch?v=TscPsYUKnic


Lighiting Gasoline Fail https://www.youtube.com/watch?v=N8XrYuSWrPM


Homemade gasoline fire appleton explosion https://www.youtube.com/watch?v=bajwySTA3mM


Shows how quickly gas fire spreads – [Misnomer:] Man Accidentally Sets Fire To Garden Trying To Kill Bug https://www.youtube.com/watch?v=6evFKKruJ0c


Stupid Fire Accident https://www.youtube.com/watch?v=-QcBScz5C4U


Rednecks Start Camp Fire With Gasoline https://www.youtube.com/watch?v=k233WaXxP70


Gasoline brush pile fire https://www.youtube.com/watch?v=Hi7tZVV-o8A


Lighting Brush Pile With Roman Candle And Gasoline https://www.youtube.com/watch?v=v2qlDdDAJ28


Slow Motion Gasoline Explosion https://www.youtube.com/watch?v=lwVs6Gpy4xM